Guy's and St Thomas' NHS Foundation Trust v R [2020] EWCOP 4
Contingent/anticipatory declarations - MCA/inherent jurisdiction - Caesarean section R had capacity to make decisions as to her ante-natal and obstetric care but there was a risk that she would lose capacity during labour and refuse a Caesarean section. (1) MCA 2005 s16 (Powers to make decisions and appoint deputies: general) applies only to those who currently lack capacity. (2) MCA 2005 s15 (Power to make declarations) is not so limited and so can authorise contingent declarations. (3) Deprivation of liberty cannot be authorised by s15 but the inherent jurisdiction may be utilised to fill that lacuna which would otherwise render the s15 power nugatory.

Essex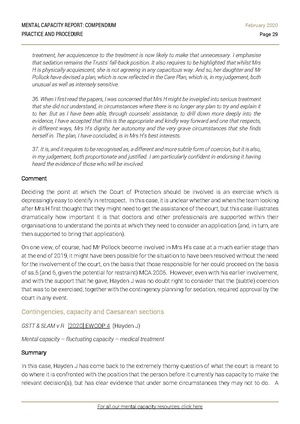 This case has been summarised on page 29 of 39 Essex Chambers, 'Mental Capacity Report' (issue 101, February 2020).

CASES DATABASE
Full judgment: BAILII

Subject(s):
Date: 29/1/20🔍
Court: Court of Protection🔍
Judge(s):
Parties:
Citation number(s):
What links here:
Published: 30/1/20 18:54
Cached: 2021-04-22 02:13:16