A Local Authority v JB [2019] EWCOP 39
Capacity and sexual relations
"Distilled to its essence, the question which it is said remains unanswered is this: does the "information relevant to the decision" within section 3(1) of the Mental Capacity Act 2005 include the fact that the other person engaged in sexual activity must be able to, and does in fact, from their words and conduct, consent to such activity?"
Citation
JB (Capacity: Consent To Sexual Relations And Contact With Others) [2019] EWCOP 39B

Essex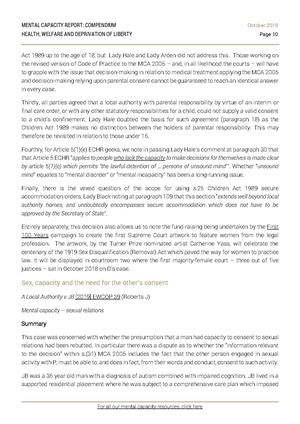 This case has been summarised on page 10 of 39 Essex Chambers, 'Mental Capacity Report' (issue 98, October 2019).


ICLR
The ICLR have kindly agreed for their WLR (D) case report to be reproduced below. For full details, see their index card for this case.  
The WLR Daily case summaries
[2019] WLR (D) 517
Court of Protection
A Local Authority v JB
2019 July 15;
Sept 17
Roberts J
Mental disorder— Capacity— Determination — Consent to sexual relations— Local authority seeking determination whether adult with cognitive impairment having capacity to consent to sexual relations— Whether understanding of extent to which non-consensual sexual relations might be a violation of criminal law relevant information for purposes of determining issue of capacity— Mental Capacity Act 2005 (c 9), s 3(1)
The local authority sought a determination on whether a man ("P"), suffering from autism and impaired cognition, inter alia, had the capacity to consent to sexual relations since his advances lacked appropriate social inhibition on occasions. Although he had never been either charged with, or convicted of, any criminal offence there was a concern that his behaviour if unrestrained might result in his exposure to the criminal justice system and risk to potentially vulnerable females. At the first stage of a split hearing, at issue was the question of what was relevant for the purposes of assessing the question of capacity to consent and whether the "information relevant to the decision" within section 3(1) of the Mental Capacity Act 2005 included an understanding that the other person engaged in sexual activity had to be able to, and did in fact, from their words and conduct, consent to such activity. It being uncontroversial that P's own understanding of the need for consent was fundamental to the issue of capacity to have sexual relations, the issue was whether or not the test should be extended to incorporate what was essentially an understanding of the extent to which non-consensual sexual relations might be a violation of the criminal law.
On the issue of the relevance of consent to the issue of capacity—
Held, for the purposes of determining the fundamental capacity of an individual in relation to sexual relations, the "information relevant to the decision" for the purposes of section 3(1) of the 2005 Act did not include an understanding that, absent consent of a sexual partner, attempting sexual relations with another person was liable to breach the criminal law. It was important to distinguish between the individual (and different) concepts of having the mental capacity to consent to sexual relations and exercising that capacity. Section 3 of the 2005 Act was designed to determine what was often referred to as the "functional test". It did not look to outcome or to the fact that the absence of consent from a sexual partner might expose P to the rigours of the criminal justice system. Had protection per se of the potentially incapacitous in that respect been a driving factor of the 2005 Act or its subsequent judicial interpretation, no doubt appropriate (but necessary) inroads could have been made into the non-paternalistic ethos of the legislation. P's own choice, and his appreciation of that choice and the opportunity to refuse to consent, was an integral element of the capacity decision itself. Knowledge of the other party's consent to the proposed sexual activity was certainly relevant to the choice which then confronted P as to whether or not he went ahead with that activity and thus its essentially lawful or unlawful nature. Very great care was needed before imposing on the potentially incapacitous the need to understand those quasi-criminal principles and the potential for consent to be withdrawn by the other party at any stage. Importing into the test for capacity and/or the information which informed that test a requirement for an understanding of parallel and continuing consent in a sexual partner imposed a test which was set too high. It was not appropriate to increase the bar for the potentially incapacitous and thus potentially deprive them of a fundamental and basic human right to participate in sexual relations merely because the raising of that bar might provide protection for either P himself or for any victim of non-consensual sex when those consequences were viewed through the prism of the criminal law. Whilst the ability to use and weigh information remained relevant to a capacity assessment in the domain of sexual activity, it should not involve a refined or nuanced analysis which would not typically inform any decision to consent to sexual relations made by a fully capacitous individual. The law in the present context strived to assist a potentially incapacitous individual to participate in the fullest experience of life. P had already made it abundantly clear that he wished his experience of life to include sexual relations and the ability to find a partner. To require him to demonstrate as an aspect of his fundamental capacity in that context a full appreciation of both his own and a partner's initial and ongoing consent throughout the course of that sexual activity would be to impose on him a burden which a capacitous individual might not share and might well be unlikely to discharge. It was true that knowledge of the absence of consent might expose either to the risk of criminal prosecution but in both cases each was entitled to make the same mistakes which all human beings can, and do, make in the course of a lifetime.(paras 79–81, 87, 99).
D Borough Council v B [2012] Fam 36B, In re M (An Adult) (Capacity: Consent to Sexual Relations) [2015] Fam 61B, CA applied.
B v A Local Authority [2019] EWCA Civ 913M; [2019] WLR(D) 330B, CA considered.
In re A (An Adult) [2019] 3 WLR 59B distinguished.
Vikram Sachdeva QC for the local authority.
Parishil Patel QC and Ian Brownhill for JB by his litigation friend, the Official Solicitor.
Jeanette Burn, Barrister
Referenced Legislation
Mental Capacity Act 2005 (c 9), s 3(1)
CASES DATABASE
Full judgment: BAILII

Subject(s):
Capacity to consent to sexual relations cases🔍
Date: 17/9/19🔍
Court: Court of Protection🔍
Judicial history:
Judge(s):
Parties:
Citation number(s):
What links here:
Published: 14/4/21 20:54
Cached: 2022-05-28 23:51:49