Stewart Tendler, ''Public before press' move backfires at Broadmoor tribunal' (The Times, 5/3/75)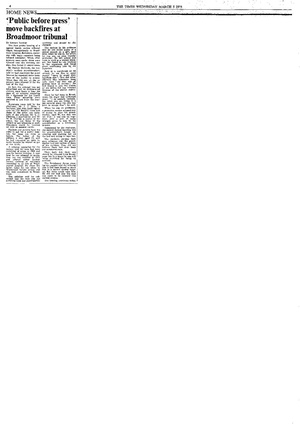 Press report of public MHRT hearing This newspaper article summarises what was believed to be the first public MHRT hearing, in 1975, of a convicted arsonist and sex offender whose solicitor argued was not suffering from psychopathic disorder and should be discharged from Broadmoor.
Thanks
Reproduced from the Times Digital Archive with permission. News Licensing waived their fee because this is a free website and because of Mental Health Awareness Week. Thanks also to Julian Hendy (Hundred Families charity) for locating and sending the clipping.
See also