Regional Chairmen's Manual (June 2006)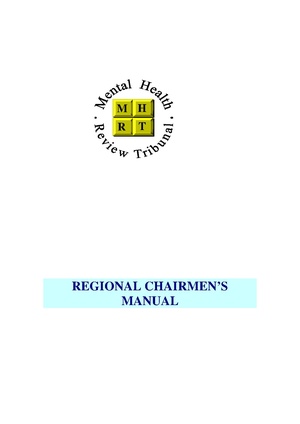 Bench book It was planned that this manual will be updated to reflect changes made by the Mental Health Act 2007 and Tribunals, Courts and Enforcement Act 2007. The current MHT Bench Book is not publicly available.
Foreword
This foreword is taken directly from the manual and provides a good introduction:
During the past year, the Regional Chairmen have been engaged in a systematic review of the judicial procedures and processes of the Mental Health Review Tribunal to ensure that they are focused on achieving a just and speedy conclusion for the tribunal user.
It is essential that that the administrative staff work in close partnership with the tribunal members to ensure that all relevant information and material is available on the hearing day and that any extraneous issues have been resolved in advance.
It is a true pleasure in achieving this objective for the Regional Chairmen to be able to welcome and commend the Regional Chairmen's Manual designed to set out the policies and procedures governing judicial case management and the flow of information between the administration, the Regional Chairmen and the tribunal members.
It is necessary for administrative and judicial procedures to operate in harmony and to this end the Manual has been issued to all tribunal members and the administrative staff so that they are all aware of the administrative procedures that should be followed in the course of an application or reference.
The Regional Chairmen have drafted, as part of the process of harmonisation, a Judicial Bench Book, which will be published shortly for inclusion in the loose-leaf binder. Manuals giving guidance to hospital administrators and representatives are also being prepared.
The quartet of manuals will provide the essential reference guidance for all those involved in an application or reference to the tribunal and we hope that the Manual and the forthcoming publications will prove to be sturdy and reliable companions to you over many years.
Professor Jeremy Cooper
Mr John Wright
June 2006
RESOURCES DATABASE
Download: File
Type: Tribunal guidance🔍
Title: Regional Chairmen's Manual
Author: Mental Health Tribunal🔍 · Cooper, Jeremy🔍 · Wright, John🔍
Date: June 2006🔍
What links here: