Phil Fennell, Penny Letts and Jonathan Wilson, Mental Health Tribunals: Law, Policy and Practice (Law Society, 2013)
MHT book See the foreword from the book, and a review from the Law Society Gazette. Now £6 including postage.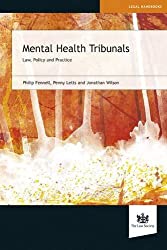 Purchasing the book
The bad news - This book, which I co-authored with Phil Fennell and Penny Letts, is now out of print!
The good news - The remaining copies are available at a reduced rate of £6 (including postage) and can be ordered below.
If you don't have a PayPal account, you can click "Buy Now" then choose the "Pay by Debit or Credit Card" / "PayPal Guest Checkout" option.
All books can be viewed on the Books page
Purchase: Amazon link
Type: Book🔍
Title: Mental Health Tribunals: Law, Policy and Practice
Author: Fennell, Phil🔍 · Letts, Penny🔍 · Wilson, Jonathan🔍
Publisher Law Society🔍
Date: 2013🔍
What links here: