39 Essex Chambers, 'Mental Capacity Law Newsletter' (issue 45, April 2014)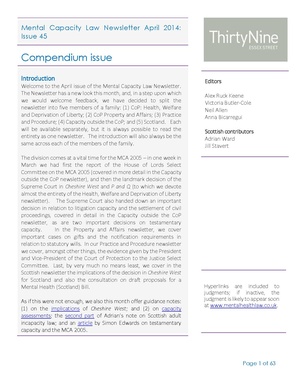 Mental capacity law newsletter "The division [of the newsletter into separate parts] comes at a vital time for the MCA 2005 – in one week in March we had first the report of the House of Lords Select Committee on the MCA 2005 (covered in more detail in the Capacity outside the CoP newsletter), and then the landmark decision of the Supreme Court in Cheshire West and P and Q (to which we devote almost the entirety of the Health, Welfare and Deprivation of Liberty newsletter). The Supreme Court also handed down an important decision in relation to litigation capacity and the settlement of civil proceedings, covered in detail in the Capacity outside the CoP newsletter, as are two important decisions on testamentary capacity. In the Property and Affairs newsletter, we cover important cases on gifts and the notification requirements in relation to statutory wills. In our Practice and Procedure newsletter we cover, amongst other things, the evidence given by the President and Vice-President of the Court of Protection to the Justice Select Committee. Last, by very much no means least, we cover in the Scottish newsletter the implications of the decision in Cheshire West for Scotland and also the consultation on draft proposals for a Mental Health (Scotland) Bill. "
Note
There was no issue 44.
Download: URL
Type: Newsletter🔍
Title: Mental Capacity Law Newsletter
Author: Ruck Keene, Alex🔍 · Butler-Cole, Victoria🔍 · Allen, Neil🔍 · Bicarregui, Anna🔍 · Ward, Adrian🔍 · Stavert, Jill🔍
Organisation: 39 Essex Chambers🔍
Date: April 2014🔍
Issue: 45
What links here:
No pages link to this page