Tribunal Procedure Committee, 'Possible amendments to the Tribunal Procedure (FTT) (HESC) Rules 2008' (consultation about s2 listing, from 21/6/22 to 16/8/22)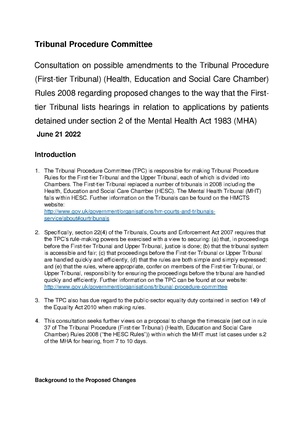 Longer listing window for s2 cases The tribunal always had 7 days to list s2 cases but during the coronavirus pandemic this was extended temporarily to 10 days. The consultation question is: "Do you agree that the proposed change to rule 37 of the HESC Rules, to permit section 2 MHA cases to be listed within 10 days of the date on which the MHT receives the application notice, should be made permanent? If not, why not?"
Questionnaire
See also
Tribunal rules consultation. Tribunal Procedure Committee, 'Consultation on possible amendments to the Tribunal Procedure (First-Tier Tribunal) (Health, Education and Social Care Chamber) Rules 2008 on the timescale for listing Section 2 hearings' (from 11/2/20 to 7/4/20) — The TPC seeks answers to the following questions: (1) Do you agree that the requirement should be that the First-tier Tribunal lists all section 2 hearings within 10 days from receipt of the application notice rather than 7 days? (2) Do you have any other comments on this proposal?
Conclusion of s2 listing window consultation. Tribunal Procedure Committee, 'Responses to the consultation (on changes to the s2 listing window) and reply from the TPC' (23/6/20) — The TPC made the proposed changes (10 days instead of 7 for listing s2 hearings), plus an explicit power to ignore the deadline. The change was a temporary response to the coronavirus pandemic, and its effects will be monitored before a a final decision is made. There were 60 responses, including from two organisations (the Law Society and the MHT Members Association): 51 were in favour and 9 against.
Coronavirus legislation. Tribunal Procedure (Coronavirus) (Amendment) Rules 2020 — Rule 2 amends the MHT's rules: (1) new power in new rule 5A to dispose of proceedings without hearing if the matter is urgent, it is not reasonably practicable to hold a hearing (including a remote hearing) and it is in the interests of justice to do so. (2) section 2 hearings to start within 10 days rather than 7 days, with an explicit power to ignore this deadline if the tribunal considers it "not reasonably practicable". In force 10/4/20. These rules will expire on the same day as section 55(b) of the Coronavirus Act 2020 (public participation in proceedings conducted by video or audio). (3) A further change, relating to public/private hearings, is inserted into the part of the HESC rules which do not apply to mental health cases.