Re AH [2021] EWCA Civ 1768
Judicial visits
This appeal against a Court of Protection serious medical treatment decision was allowed because of the nature of the judge's visit to the patient in hospital: it may have been that the judge considered AH to have given him some insight into her wishes; if so, the judge's decision was undermined because (a) it was strongly arguable that the judge was not equipped properly to gain any such insight (the validity of any such assessment might well have required further evidence or submissions) and (b) the parties needed to be informed about this and given an opportunity to make submissions. The Court of Appeal provided the following guidance pending any update to the guidance issued by Charles J: "Clearly, these matters will need to be determined before any visit takes place and after hearing submissions or observations from the parties: (a) Whether the judge will visit P; (b) The purpose of any visit; (c) When the visit is to take place and the structure of the visit (in other words, how the visit it to be managed; what is to happen during it; and whether it is to be recorded and/or a note taken); (d) What is to happen after the visit. This will include, depending on the purpose of the visit, how the parties are to be informed what occurred; when and how this is to happen; and how this will fit within the hearing so as to enable it to be addressed as part of the parties' respective cases."
Essex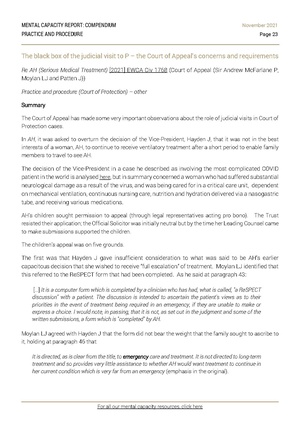 This case has been summarised on
page 23
of
39 Essex Chambers, 'Mental Capacity Report' (issue 118, December 2021)
.
Essex search
This case's neutral citation number appears in the following newsletters:
CASES DATABASE
Full judgment: BAILII

Subject(s):
Date: 25/11/21🔍
Court: Court of Appeal (Civil Division)🔍
Judge(s):
Parties:
Citation number(s):
(2022) 184 BMLR 1, [2022] 1 WLR 2437B, [2022] 2 All ER 909, [2022] COPLR 253, [2022] WLR 2437
What links here:
Published: 31/12/21 08:06
Cached: 2022-08-12 13:07:34