Larry Gostin, Mental Health Services: Law and Practice (Shaw & Sons, supplement issue no 18, June 2000)
(Redirected from Gostin)
Classic mental health law book The full text of this book is available on Mental Health Law Online.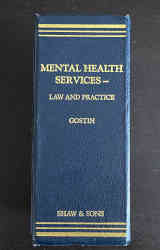 Search
The book
Larry Gostin, Mental Health Services: Law and Practice (Shaw & Sons, supplement issue no 18, June 2000). Professor Lawrence Gostin and Shaw & Sons have kindly given permission for this book to be reproduced on Mental Health Law Online. The book is out of print and the law stated in it out of date, but it is being reproduced here for historical and academic interest.
I used two volumes from different sources, each updated to issue 18, to create one perfectly-updated version, and am 99% certain that all the scanned pages are the correct ones. The scanned documents have been OCR'd so you can search the text. Richard Jones kindly sent pages C21-24 which were missing from both volumes.
Front matter
Chapters
PART I: The structure of the mental health services
PART II: Personnel in the mental health services
PART III: Admission to hospital and guardianship
PART IV: Patients concerned in criminal proceedings
PART V: Discharge and removal
PART VI: Treatment and restraint
PART VII: The rights of the patient
PART VIII: Miscellaneous
Appendices
Appendix A: Statutes
Appendix B: Statutory instruments
Appendix C: Departmental circulars
Appendix CA: Practice notes issued by the Mental Health Act Commission
Appendix D: Forms and records required under the Mental Health Act 1983 and the Registered Homes Act 1984
Appendix E: Summary of procedural requirements in respect of compulsory admission to hospital and guardianship
Alphabetical index